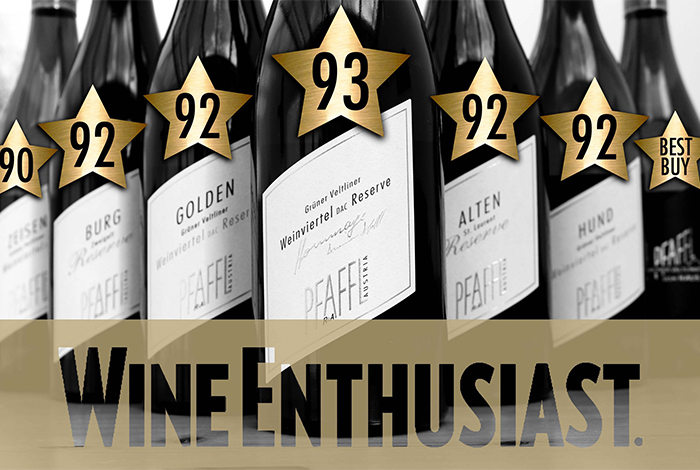 Weingut R&A Pfaffl: "Großes Lob für unsere Reserven"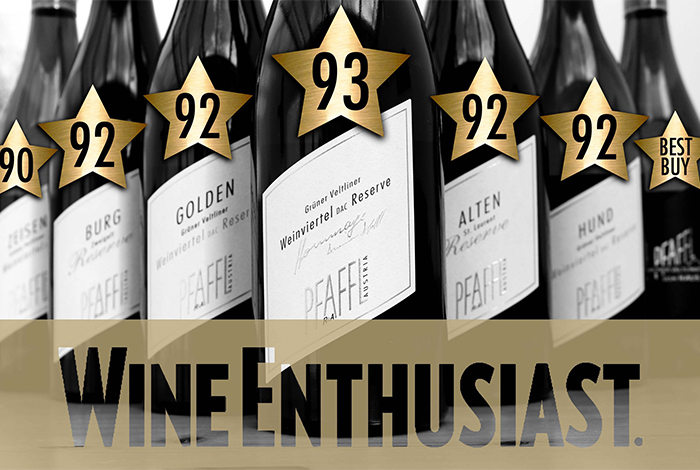 Gute Nachrichten erreichen das Weingut R&A Pfaffl aus Amerika. Das Magazin Wine Enthusiast hat seine Reserven verkostet und vergibt hohe Punktezahlen. Hier die Original-Verkostungsnotizen von Master of Wine Anne Krebiehl:
94 Points
Grüner Veltliner GOLDEN Weinviertel DAC Reserve 2019
"An incredibly intense yeastiness rises from the glass, signaling concentration, richness and intensity. The palate indeed follows up, adding really vivid white pepper notions to the mix. The salty, yeasty creaminess is edged with honey, pointing to the ripeness. This is bold, rounded, intense and textured."
93 Points
Grüner Veltliner HOMMAGE Weinviertel DAC Reserve 2019
"Right from the first intense whiff it is clear that this is a bold, strong, concentrated wine. The palate is deep in a bold yeasty richness, inside it slumbers citrus pith, saltiness and white pepper savoriness. There is a little alcoholic heat that needs food to go with it, but texturally this is rounded, big and generous."
93 Points
Riesling Reserve PASSION 2019
"Orange and lemon candy notes are vivid on the open nose. The palate has a slight fizziness and a touch of residual sweetness which both help to enhace that candy feeling of sweet-sour fruit gums."
92 Points
Cuvée PRIVAT 2018
"Hints of smoke and tar are all that is revealed on this still closed nose. On the palate, this relaxes into a smooth gloss of blackberry, plum and black cherry. There is something smooth and flowing here, accentuated by freshness and a touch of cocoa. The tannins are fine and ripe and linger smokily on the finish."
91 Points
St. Laurent Reserve ALTEN 2018
"Hints and woodsmoke and milk chocolate combine on the bold nose. Chocolate and smoke are joined by smooth, rich vanilla on the palate where they completely swathe the precise blackberry fruit in their richness. It is the freshness of the fruit that makes the difference here. Soft tannins sit well with the smooth, medium body which also reveals cinnamon on the finish."
93 Points
Zweigelt Reserve BURG 2018
"Notions of earth, wet stone, camphor and black cherry make for a striking nose in this wine. The palate then adds an almost sweet vanilla lick to everything, making the cherry fruit and that camphor tone supersmooth and mellow. This is generous, bold, big and smooth."
93 Points
Excellent Reserve 2018
"Smoky plum, blueberry and black cherry unite into dark-fruited richness on the nose. The palate is concentrated and despite the ripe fruit, there is a firm tannic structure and a certain muscular boldness. Slight cinnamon spice shimmers around the smokiness, melding into hints of tar. This is big and bold but also smooth and fresh."